Description
Awesome WhatsApp Extractor - Dalga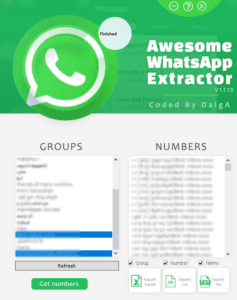 By WhatsApp Extractor you can extract all numbers (members) from ALL of your WhatsApp groups. You can save the extracted data as an excel sheet/Txt file with only ONE simple click
Price: 59
Price Currency: USD
Operating System: Windows 7,Windows 8.1,Windows 10

What is Awesome WhatsApp Extractor (AWE)?
WhatsApp is one of the most reliable instant messaging services. It is a wildly popular free messaging service. Many people use WhatsApp via their smartphones. it can also be used on a desktop or laptop. WhatsApp lets you create a group with a maximum of 256 members. When you want to extract all members from your WA groups, you may end up downloading some apps. If you want to do this as simply as possible, AWE is here for you. Through this software, you can extract all numbers (members) from ALL of your WhatsApp groups. Then you can save the extracted data as an excel sheet/Txt file with only ONE simple click. With this software, you will save a lot of time and be easy to follow up. Don't miss any numbers from your potential customers and increase your sales now!
Can AWE run on Windows Server (RDP)?
Sure yes!
Do I need to be an admin in groups for extracting the members?
No, You can extract the numbers from every group without being an admin.
How long it takes for extracting the numbers of each group?
It depends on your internet speed on your mobile and PC, usually, it takes only 15 seconds for extracting all of the members of 1 group.
Can AWE work 24/7?
Yes! AWE can work every day and every hour!
Features:

–Extract numbers from UNLIMITED groups with just 1 Click

–Extract numbers to .XLS and .CSV and .TXT

–Select what you want to extract (Name, Number,Group name)

–Everything is built-in and easy to use

–ON-Time Status

–User-friendly UI and UX

–A real 24/7 Support
* You can use AWE only on 1 system with a license that you buy.
* You will get an executable file, the source code is NOT included.
Customisation
If you didn't find your wished feature here, you can send a message to us and we can customise the software for your work!
Requirements:
1. Net Framework 4.6 or upper
2. A WhatsApp account that is enabled in a mobile
3. Windows 7, 8.1, 10 / Windows Server 2012 R2 and above
4. 512MB RAM or upper. ( Recommended +1GB)
5. 1Core – 1000 MgHz CPU or upper
6. Latest version of google chrome
Change Logs:
– V1.1.1 ( 2021/04/23)
Speed and performance increased.
Bug fixes
– V1.1.0 ( 2021/03/22 )
Great improvements on the functionality and performance.
– V1.0.2 ( 2020/07/28 )
Bug fixes and Improvements
– V1.0.1 ( 2020/07/02 )
UI and function improvements
– V1.0.0 ( 2020/06/29 )