Description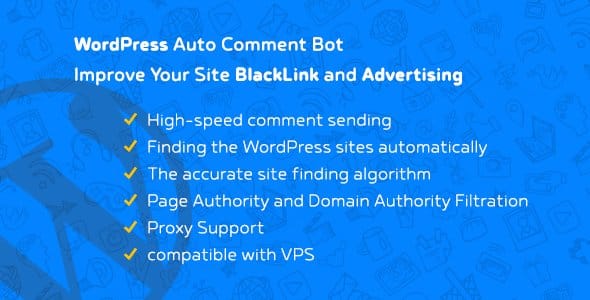 What is the WordPress Auto Comment Bot?
WordPress auto comment bot is a professional tool for creating backlinks and advertising, with this software you can send comments to WordPress sites automatically! So you will be able to get thousands of backlinks and improve your website's SEO and Marketing.
Wait! It is not a spammer robot! As we mentioned, It is a professional backlink tool, with this software, you will able to find the related sites with your desired keywords then you can send a comment with PA/DA filtration! It means you can set a goal for your comment and get high-quality backlinks, the features that we wrote in the blow, makes the software different from others.
The features:

 1. Finding the WordPress sites automatically with the keywords that you want

 2. Find WordPress websites and weblogs with two methods (google and feeds)

 3. Import keywords from a TXT file

 4. Set the numbers of sites for finding ( unlimited sites )

 5. An accurate site finding algorithm ( through Google and Bing )

 6. Select your country Google address ( for increasing the finding accuracy )

 7. Import WordPress sites manually
 8. Page Authority and Domain Authority Filtration ( for creating advanced and high-quality backlinks )

 9. Random Email generator for a comment

 10. The random Name generator for a comment

11. Unlimited comment's text Support ( you can separate comments with " :other: " )

 12. Import/Export comment settings

 13. Export Successful Comments link

 14. Export WordPress sites list

 15. Rating through sending comment support

 16. Proxy Support

 17. High-speed proxies Diagnosis for connection
18. Thread base Designed and RAM optimized usage

 19. High-speed Comment Sending ( 
 Now with 4X Speed )
20. Domain TLD filtration ( ex: you can filter the site finding just on .gov domains )

21. compatible with VPS

 22. On-time logs and status report

 23. Software Update notification

 24. Professional UI/UX design + Dark/Light Template

 25. 24/7 Learn-Site Team Support and more details…
License Type: Lifetime License. You can use this software unlimitedly just in one system
Requirements :
1. Windows 7, 8.1, 10 / Windows Server 2012 R2 or above
2. Net Framework 4.5.2 or above
3. 1024MB RAM or above.
4. 1Core – 2000 Mgz CPU or above
Notice: This software runs with your purchase code just on one system. For running this software on more than one system, you must buy a new license key.
Note2: This product isn't a "source code", WordPress Auto Comment Bot is an EXE file and it runs on windows
Note3: Using this software for scamming and destructive spamming is not allowed at all. If we see any kind of misuse, we reserve the right to ban the user's access to the software.
Don't be hesitant: if you have any questions about this software, just send a message via the support system or online chat.
Changelogs:
Version: 1.4.7 (2021/11/17)
- Performance and Speed of the bot are increased! You'll have a more smooth experience with using the bot.
- Bugs resolved and improvements.

Version: 1.4.6 (2021/08/01)
- Comment Spinner added. You can add comments like this:
Your website is {awesome|great|perfect|facsinating}.

Version: 1.4.5 (2021/07/25)
- Turkish Translation is added to the bot!

Version: 1.4.4 (2021/07/15)
- PA/DA Filteration problem has been solved.
- Improvements and Bug fixes.

Version: 1.4.3 (2021/04/05)
- Bug fixes in importing comments from a text file

Version: 1.4.2 (2021/01/03)
- Fetching from google's problem solved.
- Minor Bug fixes

Version: 1.4.1 (2020/12/29) 
- The speed and performance are improved 10x better now! 
- Some warnings added in case of helping you to write better comments to send
- Bug fixes

Version: 1.4.0 (2020/12/28)
!! X MAS UPDATE !!
- A new and powerful method for grabbing WordPress weblogs implemented!
- Google method updated
- Performance and speed are improved a lot!

Version: 1.3.0 (2020/07/15)
- Rating feature has been added. ( you can send a rate between 1-5 stars through comments )
- Finding algorithm has been improved.
- Bug fixing

Version: 1.2.0 (2020/05/27)
- Function improved
- Bug fixes

Version: 1.1.3 (2019/01/04)
- License system problem solved
- Fast Method problem solved

Version: 1.1.2 (2018/12/23):
- Last update's Bug Fixes

Version: 1.1.1 (2018/11/26):
- New: Export successfully comments sent ( Check to send logs page in the software )
- New: Export WordPress sites list

Version: 1.1.0 (2018/11/25):
- New: Thread base re-designed and now with 4X speed and the application hangs resolved
- Improvement: RAM usage optimization
- Improvement: Pause/Continue Comment Sending
- Fix: Update notification
- Bug fixes

Version: 1.0.6 (2018/11/09):
- Fix: .TXT Import Problem

Version: 1.0.5 (2018/11/03):
- Fix: The site finding problem

Version: 1.0.4 (2018/10/30):
- Fix: License Checking System

Version: 1.0.3 (2018/10/22):
- New: Domain Filtration
- Enhancement: Sites finding Algorithm

Version 1.0.2 (2018/10/9) :
- New: Unlimited comments text feature
- New: Random name option
- Bugs fixes