Description
New Blogger Auto Post Sender - Dalga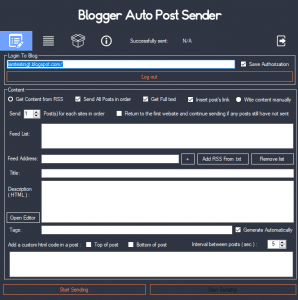 Blogger Auto Post Sender is a professional tool for sending posts automatically to weblogs.
Price: 59
Price Currency: USD
Operating System: Windows 7,Windows 8.1,Windows 10
Application Category: Assistant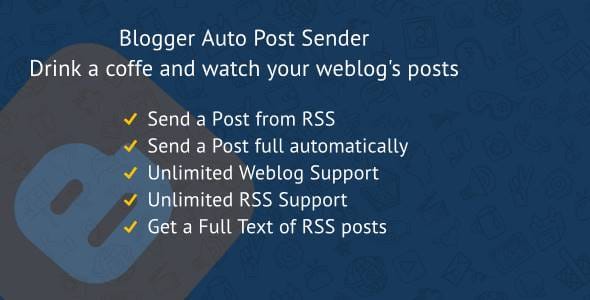 What is "Blogger Auto Post sender"?
Blogger Auto Post Sender is a professional tool for sending posts automatically to a weblog by using RSS Feed. This Blogger Auto Poster can be used for different kinds of jobs. For instance, you can use this software for improving your advertising, making an RSS Reader website, create backlinks, and so on.
Also, this software can be used in making a backlink procedure which is the best completion for WordPress auto comment bot.
The Features:

1. Unlimited weblog support

2. Send a post to sites at the same time

3. Get content from RSS

4. Add RSS URLs from a text file

5. Get RSS posts and send all of them for a weblog in the short time

6. Unlimited RSS URLs Support

7. High-Speed post sending ( it just takes several milliseconds!)

8. Write a post manually with the HTML editor of the software

9. Html editor for helping in the writing a post

10. Insert the read more link in the bottom of posts ( for observing copyright )

11. Get RSS post's full text

12. Add custom HTML code to the top or bottom of the post

13. Automatically Tag generator

14. Limiting the sending post amount

15. Define the interrupt seconds between two posts

16. On-Time Software Status

17. DalgaDev 24/7 Support
License Type: Lifetime License. You can use this software unlimitedly just in one system
Requirements:
1. .Net Framework 4.5.2 or above
2. Windows 7, 8.1, 10 / Windows Server 2012 R2 or above
3. 512MB RAM or above.
4. 1Core – 2000 Mgz CPU or above
Don't hesitate: if you have any questions about this software, just send us a message via the support system or online chat.
Notice: This software runs with your purchase code just on one system. For running this software on more than one system, you will need to buy a new license key.
Note2: This product doesn't have "source code" .
changes log:
Version 1.0.4 (2020/07/22)
– Bug fixes and improvements in the sending part.
Version 1.0.3 (2020/07/21)
– Bug fixes and performance improvements.
Version 1.0.2 (2020/07/15)
– Bug fixes and improvements.